Video page - wide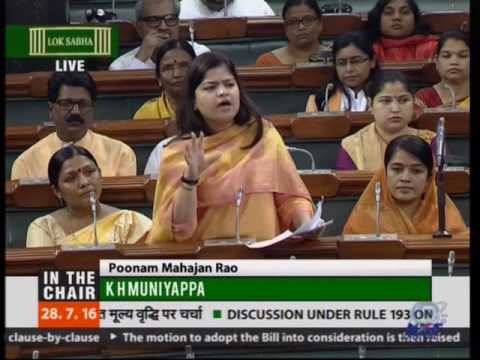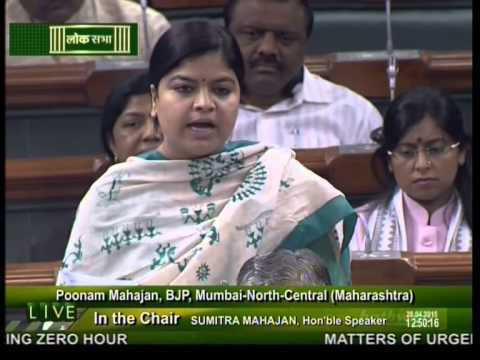 Wednesday, April 29th, 2015 @ 11:36AM
Poonam Mahajan : Speech of Hawkers Issue
I raised a matter of urgent public importance in the august house of Lok Sabha requesting the Government to amend the Street Vendors (Protection of Livelihood and Regulation of Street Vending) Act, 2014 at the earliest.
While examining the Street Vendors Act, I found out that Act did not take into account the population density of metropolitan cities while preparing a street vending zone plan. During the last two months Mumbai witnessed a cold war between resident associations and street vendors association. With the current population of 1.25 crore in Mumbai and a population density of 32,300 persons per square kilometre in Mumbai, it will be challenging to effectively implement street hawking zone plans. Moreover, Mumbai is expected to become the world's fourth-largest city, with an estimated population of 2.77 crore by 2030. It is absolutely essential that future requirements of Mumbai must be taken into consideration while formulating policies for establishing street hawker zones.
Mumbai as a commercial capital of India attracts migrants from all over the country. Many of them earn their living as street hawkers near suburban railway stations, schools, and various other public places. I am very delighted that Honourable Prime Ministers initiative of Micro Units Development and Refinance Agency (MUDRA) Bank will empower street entrepreneurs.
But what is worrisome that Mumbai's per capita open space is a measly 0.99 square metres as opposed to the ideal open space ratio of 10 square metres per person which is in accordance with the Central Government's Urban and Regional Development Plans Formulation & Implementation (UDPFI) Guidelines 1996.
I wrote a letter to Shri Venkaiah Naidu, Honourable Union Minister of Urban Development and Housing & Urban Poverty Alleviation urging to him amend the Street Vendors Act as soon as possible.
Finally, I requested the Government to amend the Street Vendors Act by including a clause on population density in metropolitan cities especially in Mumbai while determining and preparing a plan for street vending zones. The street vending zone plans should be prepared in such a manner that resident associations and street hawkers association can co-exist harmoniously and BMC can implement the plan with greater efficiency.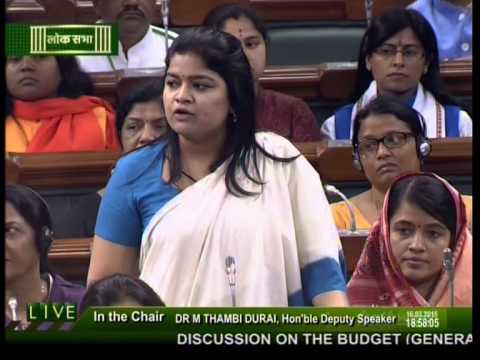 Tuesday, March 17th, 2015 @ 5:31AM
Poonam Mahajan : Speech on Union Budget 2015
Recently I participated in the general discussion on the Union Budget for the financial year 2015-  2016 for the second time in the august house of Lok Sabha.
The union budget presented every year by the Finance Minister is an annual exercise for allocating funds for various government schemes and initiatives for human development. Shri Narendra Modi demonstrated his proactiveness right from the day he took an oath as the 15th Prime Minister of India on 26th May, 2014.
The Honourable Prime Minister firmly demonstrated his dictum of "Sabka Saath, Sabka Vikas" by introducing a series of transformative initiatives namely; Make in India, Skill India, Digital India, Swachh Bharat Abhiyan, Jan Dhan Yojana, Shramev Jayate, Beti Bachao Beti Padhao and Per Drop More Crop. These initiatives will help realise the aspirations of millions of Indians who are eager to uplift themselves out of abject poverty and sluggish economic growth that occurred during the UPA Government's tenure.
I vehemently objected to the opposition members' allegations about the BJP led NDA Government favouring corporate interests. The Union Budget for the financial year 2015-2016 is rightly called as Sabka Budget (Budget for All) that incorporated the needs for better qualitative education and healthcare services for children, enhancing women's security, financial and job security for all the aspirational Indians and pulling millions of people living at the bottom of pyramid.
Like every proud parent, I want my children to benefit from better educational facilities, better job opportunities and higher standards of living. In a similar vein, the Prime Minister dedicated himself to boost quality of life for all 125 crore Indians. I strongly believe that the Budget should not be seen as a financial statement of expenditure and receipts but as a statement of intent to uplift the lives of all Indians.
Using an analogy of fruit tree nurtured by water, sunlight and fertiliser I highlighted the Government's commitment to enrich the lives of children by allocating Rs. 42,219 crore and Rs. 26,855 crore for school education & literacy and higher education respectively. Moreover an expenditure of Rs. 3,538 crore and Rs. 275 crore have been provided for setting up seven Indian Institutes of Technology (IITs) and five Indian Institutes of Management (IIMs).
I am immensely grateful to the Finance Minister that in order to reduce the dropout rate of students (currently 14.54) studying in grades 6 to 8 and facilitate a transition to high school, the government raised the allocation for Rashtriya Madhyamik Shiksha Abhiyan (RMSA), a flagship programme for secondary education from Rs. 3,465 crore in 2014-15 to Rs. 3,548 crore.
The Prime Minister's efforts to build toilet facilities under the aegis of Swacch Vidyalaya programme are laudable that will enable girls to continue their education and reduces dropout rates considerably. 64,935 new toilets have been constructed so far and the budget provision for construction works related to 4,04,035 toilets has been provided.
During the first tenure of the NDA government from 1998 to 2004 under the wise leadership of Shri Atal Behari Vajpayee, over 6 crore jobs were generated as opposed to 1.5 crore jobs generated during UPA's tenure from 2004 to 2014.
Under Shri Narendra Modi's leadership, the NDA government with its skill development initiatives and pro jobs policy, can add almost 50 million jobs in the labour-intensive manufacturing and services sector, which will help address employment needs of most of the 59 million people estimated to enter India's workforce between fiscals 2012 and 2020.
The total spending on infrastructure increased to Rs. 1,37,333 crore constituting 29.5% of planned allocation in union budget as compared to Rs. 1,15,767 crore (revised estimates in 2014 15, 24.7% of planned allocation in Union Budget). The increased allocation will enhance job creation capacity in the economy.
The Jan Dhan Yojana is an effective tool for financial inclusion that enabled women to own a bank account. Mumbai constitutes 70% of slum population and Shrimati Mahajan highlighted the fact that majority of women living in slum areas benefited from owning a bank account thereby boosting their savings.
Jan Dhan Yojana has been very successful in empowering women representing self help groups and I appreciate Minister of State in Finance Shri Jayant Sinha's efforts for the same. It is noteworthy that Shri Yashwant Sinha was the Finance Minister when Lok Sabha passed Insurance Bill in 1999 that opened insurance sector to foreign investment capped at 26%. History repeated itself 16 years later when his son Jayant Sinha emulated his father and carried forward the legacy by bringing the Insurance Laws Amendment Bill, 2015 (that increased FDI to 49%) across the finish line.
By universalising social security the Finance Minister expanded the welfare system and focuses on ways to make it more effective and efficient. Three new schemes – Atal Pension Yojana, PM Jeevan Jyoti Bima Yojana, and PM Suraksha Bima Yojana – have been announced dealing with accident, health and old-age insurance. Pradhan Mantri Suraksha Bima Yojana covers accidental death risk of Rs. 2 Lakh for a premium of just Rs. 12 per year. Atal Pension Yojana provides a defined pension and government will contribute 50% of the beneficiaries' premium limited to Rs. 1,000 each year, for five years, in the new accounts opened before 31st December, 2015.
Finally Sabka Budget for the financial year 2015-16 will secure the future of millions of children, safeguard women from all kinds of problems, boost healthcare system, enhance financial security through skill development programmes and raises India's prestige in the world. I ended my speech with a following couplet:
"Thorns have their own stories that creates problems for us
Flowers are blooming and more flowers will bloom in future
This garden's fragrance, a sweet smell of country's success
Shall be successfully spread all over the world"